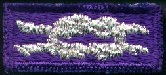 If a Cub Scout/Boy Scout/Venturer has earned the Religious Emblem from their place of worship, they can also wear the Youth Religious Emblem Square Knot. It is purple with a Silver Knot. While the Religious Emblem Programs are part of each Religion / denomination, and are each unique depending on the faith, the Square Knot is a BSA award, recognizing the youth for being involved in their church, and earning that award.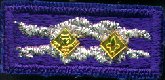 If a scout has earned more than one religious emblem at varying times in his scouting career, there are devices that can be added to this to recognize each award. The example at the left shows one with the Cub Scout and Webelos Devices. There are also similar devices for Boy Scouts and Venturing.
Wear the CUB SCOUT device for the first level emblem (God & Me, Maccabee, etc.) earned as a Tiger Cub or Cub Scout;
Wear the WEBELOS SCOUT device for the second level emblem (God & Family, Parvuli Dei, Aleph, etc.) earned as a Cub Scout or Webelos Scout;
Wear the BOY SCOUT device for the first level emblem (God & Church, Ad Altare Dei, Ner Tamid, etc.) earned as a Boy Scout;
Wear the VENTURING device for the second level emblem (God & Life, Pope Pius XII, Etz Chaim, etc.) earned as an older Boy Scout, Varsity Scout, Sea Scout, or Venturer.
Note that Webelos Scout and Venturing devices are used to designate the second level emblems described above, EVEN IF the boy isn't a Webelos Scout and/or Venturer when the member earns the appropriate religious emblem. Not all Religious Emblem Program ages line up perfectly with the BSA program ages.
Also, note that this award can be worn all throughout scouting, Even if earned as a Cub, they can continue to wear it as a boy scout, and even as an adult leader.